The Race
The Kajaks Track & Field Club is pleased to welcome back the 2023 Steveston Icebreaker 8K and New Balance 1K Kidsrun! The IB8K is Richmond's first and ONLY road race of the year, and the first race in the Lifestages Lower Mainland Road Runners Series and the second race of the BC Athletics BC Super Series. Our race offers a flat and fast course through scenic and historic Steveston. Start your year off with a personal best, and the best views in the city!
---
8K Course Map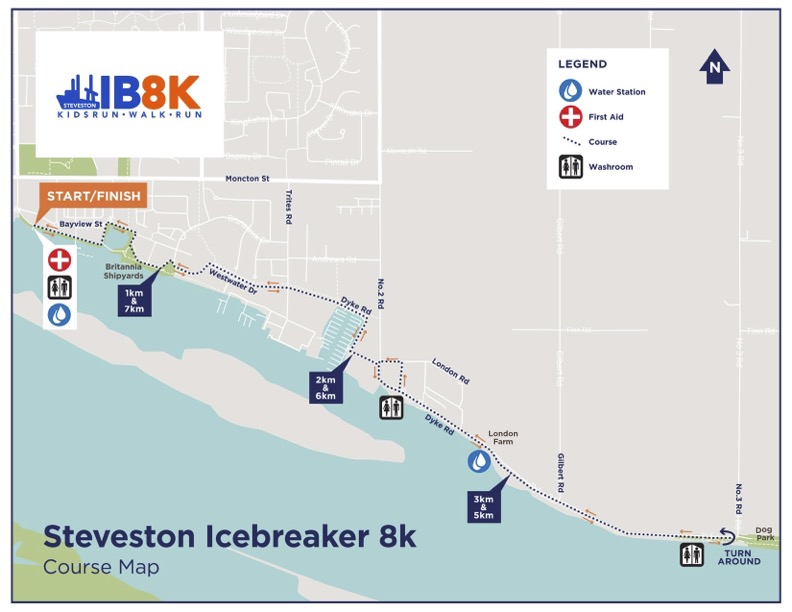 Road Closures will be in effect during the race.
Parking and Start-Line Map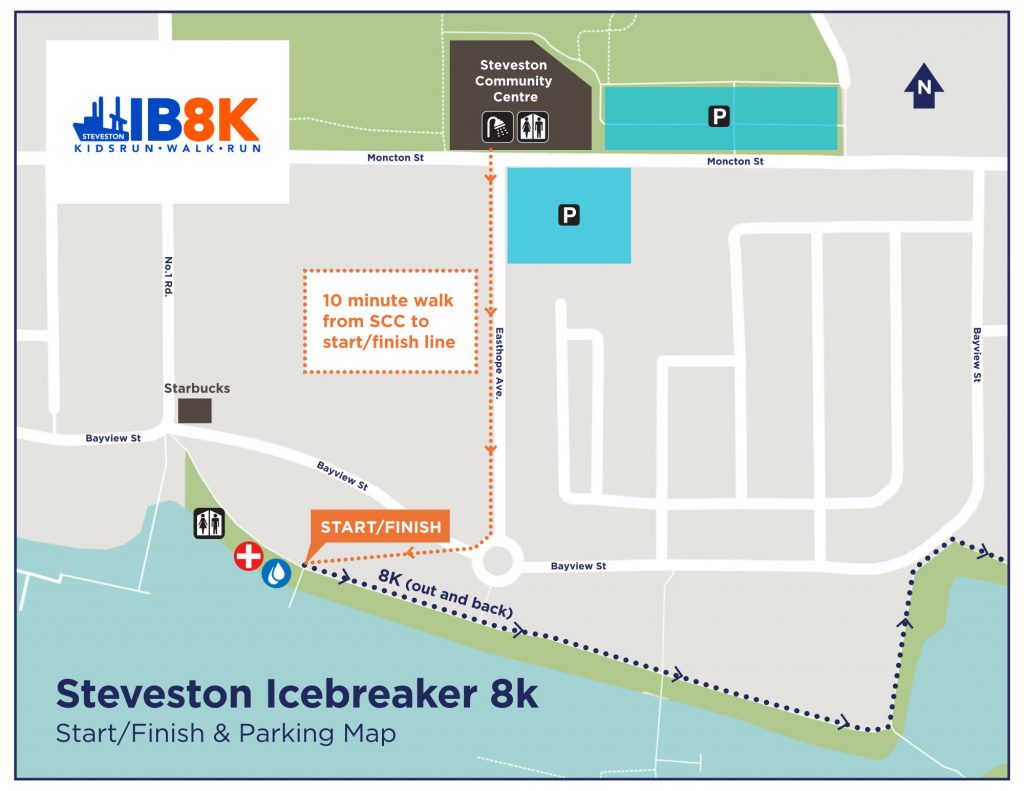 Race Location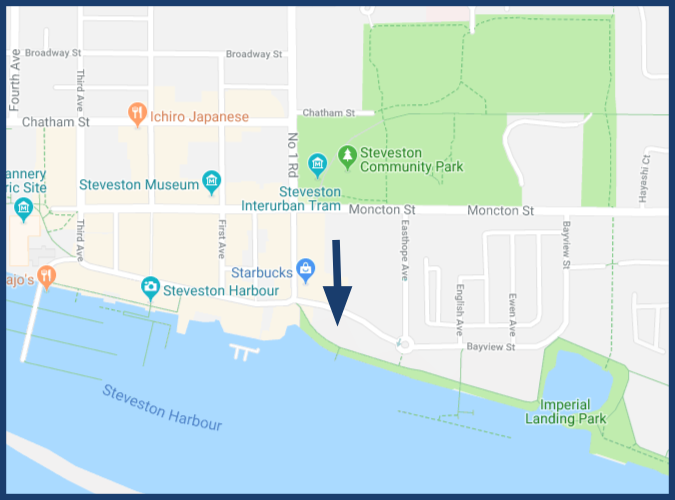 (Click on maps to access PDF version)
---
WATER STATION & WASHROOMS
Water available at start, finish and mid-course. Toilets at start and finish, and public washrooms along the course at 3K and 6K.
FIRST AID

First aid will be provided by Odyssey Medical. A first aid station will be available at the start/finish area. In addition, first aid attendants will be spread out remotely throughout the course.
FACILITIES & PARKING
Parking is available at the Steveston Community Centre, the lot directly across the street and along the streets in some locations. Washrooms are located at the community centre.
GEAR CHECK
Complimentary Gear Check starting at 7:30 AM inside the community centre. Gear Check tags are supplied as part of your race bib.
SAFETY
For safety purposes, participants with walking poles, strollers or baby joggers MUST start at the back of the pack and must walk the route. Sorry, no dogs or pets on course.
---
Hotel
Hey Out-of-Town Runners – SIGN UP for the Icebreaker 8K Run/Walk and get an incredible rate at the Vancouver Airport Hilton Hotel. $129 per night! When you call to reserve just let them know you'll be in town for the Steveston Icebreaker race. The Hilton Vancouver Airport located at 5911 Minoru Blvd, Richmond, BC V6X 4C7. Free Airport Shuttle.
---
Elites & Awards
ELITES
To be accepted as a complementary elite entry athlete must have achieved the following standards during 2022:
Women's Standard: 29:00
Men's Standard: 25:30
Understanding that the 8K distance is not contested frequently, the Icebreaker 8K will also accept the following equivalent times for the 5K and/or 10K:
Women's 5K/10K Equivalent Standard: 17:30 / 37:00
Men's 5K/10K Equivalent Standard: 15:15 / 31:30
To apply, or if you have any questions, please send a brief summary of past performances to the race director at icebreaker8k@gmail.com Masters elite athletes are also welcome to apply.
INDIVIDUAL AWARDS
NB Prize Money and Prizes will be given out to the following:
- top 3 overall male and females finishers
- top youth male and female finishers
- top masters male and female finishers
TEAM AWARDS
We have two fun team contests to stir up some excitement and your competitive juices:
The team with the most finishers on race day (largest team).
The team that fundraises the most money for KidSport Richmond (most generous team).
*All awards will be given post race during the awards ceremony, and winners must be present to receive their award.
---
Get Social!
Be sure to follow us on social media for the most updated information! Tag us on your lead up to, and on race day! You can tag us at @icebreaker8K and use the hashtags #icebreaker8K or #NBkidsrun